More Art Journal Pages in the Happy Journal by Evelyn
Hello lovely Rubber Dancer, it´s Evelyn here today!
May be you´ve seen my Happy Journal I made with the beautiful Rubber Dance stamps. I also started to fill the pages with life.
I really love to work in this little journal, it´s such a nice size.
Here are my next pages.
For this pages I used my new Mermaid Markers from Jane Davenport to create the background. I randomly spreat different colors to the pages, spritzed with water and let them run.
To tone down everything and to add more texture I added white Gesso to the surface and took parts of it off using a stencil and a baby wipe.
I stamped the circles from the
Grungy Stuff stamp set
with black Archival ink on both edges, colored them with the same colors I used on the background and doodled with a white Posca pen. From the same stamp set I used my beloved grungy circles, which I stamped with Garden Patina Archival ink to the background.
Next I used the
Doodle Flowers
stamp set. I stamped the leaves with black Archival ink to the background and colored in some of the leaves with a white stabilo all. The flower I stamped on white cardstock and cut it out. Then I glued it to the page.
I cut out the words `Sound of nature´, they are from the new
Mix a Sentiment
stamp. This stamp is utterly gorgeous, I love it! To make the words stand out a bit more, I surrounded them with a black stabilo all pencil and activated it with water.
Stamps I used:
...............oh, do you remember the page I made for the challenge start this month?
I made the left side of this double page, fitting to the right, and I wanted to share this with you too.
Stamps I used: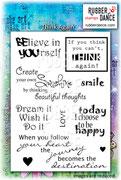 Think again
Don't forget about our challenge, which goes until the end of the month. Join in with it, there are still some days left!
So thank you for your visit today, I hope you feel a little bit inspired - and happy stamping!